The hit show "This Is Us" chronicles the family life of parents Jack and Rebecca and their children Kevin, Kate, and Randall. A favorite of our PeopleKeys office team, "This Is Us" draws our interest into a whirlpool of events and interactions, which is a perfect example of how different DISC personalities act and react.The DISC Personality System by PeopleKeys is a behavior assessment tool based on 4 main personality traits, which can be used to predict human behavior in different situations. The personality styles are never only black and white; people often have a combination of styles. Let's look at how the leading "This Is Us" characters plot on the DISC map:
Jack, Optimistic I with secondary D
The show encapsulates a family, both in present day and past memories. Although the lead role of the father Jack Pearson has passed away, the show often flashes back to his interactions with members of the family and his memories.
Jack, a high I-type personality, is known for his optimism and taking the lead with decisions. A natural leader, he drives his family's traditions, such as cheering for the Pittsburgh Steelers at the local pub and propagating the family's unconventional Thanksgiving rituals. His most striking trait, however, is his dedication. His optimism just sparkles brightly when he's speaking to Doctor K about his wife's dangerous delivery of the triplets:
Believe me when I say that only good things will happen today.
Rebecca, Compliant C with secondary S
Rebecca has high amounts of C and S in her personality. When Jack and Rebecca meet, she is an outgoing singer and is never afraid of the spotlight; however, when the twins and Randall,arrive, she becomes the homemaker, making sure no one is overshadowed by another in their large family. She is often wondering whether her decisions are right for her family; however, she is always there for all her children and her husband. In Season 1, she makes the purely emotional decision to hide Randall's biological father, fearing he could take her child away. Although she is soft spoken in present day, she is never afraid to speak her mind in the past.
Here is Rebecca in one of the first fights with Jack:
What do you love about me? Tell me. The me as I am right now, not the me you've conjured with your mind over the years. What do you love about me right now, Jack? So, the next time you tell me that you love me, make sure you're not doing it just out of habit!
Kevin, Impulsive I
Kevin is a high I-type personality: talkative, outgoing, and used to being center-stage. He is an actor, after all. He's also impulsive, deciding to quit his role in "The Manny" in the heat of the moment. A bit narcissistic, Kevin relies heavily on his sister Kate for emotional support but never reciprocates by listening to her difficulties. He looks to others for validation:
Because I care what everybody thinks, man. You know that.
Kate, Supportive S
Kate is a high S-type personality who, at the start of last season, struggles with her body image and is determined to get in shape, yet at her weight-loss support group, she suppresses her feelings about her struggles. Later in the season, she blames her fiance Toby for pushing her into the weight-loss journey. On the positive side, she's known for her dependability, support, and being overly accommodating in regards to her brother Kevin. This drives a wedge between her relationship with Toby, and it is often left to question whether her twin will tear the engaged couple apart.
Here is Toby reaching out to Kate, trying to reconcile their relationship after she's decided to hide her feelings from him:
Kate, I am here to take the first steps in overcoming our insanity one last time for both of us. Because it's Christmas and because we're good together.
Randall, Analytical C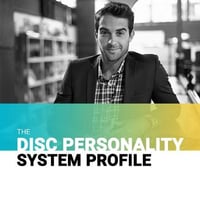 Randall, a high C-type personality, is detail-oriented, independent, and often isolates himself from his siblings and mother. He is a Weather Trader, a complex job that even his wife can't explain. Adopted from birth, Randall is bothered by change. His world is up-ended when his estranged father enters the picture.
This quote sums up his personality:
Randall is not free of vice, William. His vice is goodness. It's his compulsive drive to be perfect and it's why I love him, but it's also why I have to protect him sometimes.
For an outstanding display of the 4 DISC personalities in action, watch "This Is Us" on NBC and see who you identify most with in the Pearson family. Take a free DISC Personality Test for your traits or purchase a full DISC Personality System report.