DISC personality styles are a wonderful tool to help improve workplace email communication. Each personality type has their own tendencies, preferences and dislikes, both for sending and receiving messages, and this can lead to misunderstandings or conflicts.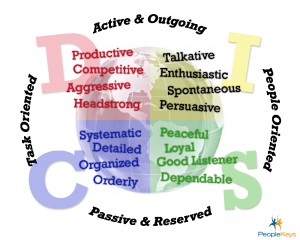 Of course, you'll need to know where you fit in and which type of DISC personality style you have before you can begin capitalizing on all of these great tips. So be sure to take the DISC personality test, and then utilize all of the information below. You'll also gain invaluable insight into all aspects of your personal and professional life.
Sending: D's tend to be direct and straight to the point. This can be misinterpreted as angry or bossy. Go out of your way to add an introduction sentence "Hello. Hope you're having a nice day. I have a quick question..." to solve this problem.
Receiving: D's respond well to concise, well-ordered emails, such as bullet points or quick questions, but will likely gloss over messages which are longer or harder to read. That means you need to get straight to your point to make sure it gets across to a D.
Sending: I's may write lengthy emails, filled with jokes, emoticons and more. It's very important to them that their tone will be accurately conveyed, but it will take a lot of time for their actual point to be made. Particularly depending on the audience or situation, it will be important to be more direct and to the point.
Receiving: I's need a message to be well organized, or have clear instructions or answers, otherwise they may lose attention and patience.
S Personality: People-Oriented & Passive
Sending: S personalities want their audience to feel good about their messages. That means making it personal, asking questions, and using emoticons to display a positive tone. However, they are adept at changing messages to a more concise and direct format depending on audience.
Receiving: S's will read through email messages in their entirety. It's the direct and abrupt seeming messages and tone from D's which bother them.
Sending: C's care about ensuring the complete accuracy and detail of their messages. That means re-reading their emails to ensure accurate spelling, grammar and other information, and creating lengthy, thorough messages.
Receiving: C's look for detailed and complete responses to ensure accuracy, and may continue replying with their own lengthy messages, ideas or questions until this is reached, therefore highly conflicting with the concise, bullet-point oriented D's they may be working with.
With the above information, anybody can learn how to communicate more effectively and efficiently via email, learning not only more about their own responses and tendencies, but also how to tailor their approach for different colleagues or contacts.
If your entire office utilizes the DISC personality test, it will serve as a wonderful team building exercise. Each individual will gain new knowledge about themselves as well as those who they interact with on a regular basis, and everyone can benefit from the improvements to communication.