The DISC personality test, based on the DISC model (dominance, influence, steadiness, conscientiousness) founded by William Moulton Marston, is an excellent assessment tool to help improve workplace email communication. Each personality type has its work style tendencies, preferences, and dislikes, both for sending and receiving messages, leading to misunderstandings or conflicts.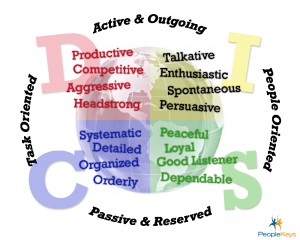 Of course, you'll need to know where you fit in and your DISC personality type before you can begin capitalizing on all of these great tips. Be sure to take the DISC assessment if you don't already know your DISC profile, and then utilize all of the information below for enhancing your email communications. You'll also gain invaluable insight into all aspects of your personal and professional life.
Sending: D types tend to be direct and straight to the point, which a reader could potentially misinterpret as angry or bossy. Go out of your way to add an introduction sentence such as, "Hello. Hope you're having a nice day. I have a quick question..." to solve this problem.
Receiving: D personality styles respond well to concise, well-ordered emails, such as bullet points or quick questions, but will likely gloss over messages that are longer or harder to read. You need to be direct and high-level to make sure it gets across to a D style.
Sending: I personality styles may write lengthy emails filled with jokes, emoticons, and more. The email must accurately convey their tone, but it might take a while to get to the point. Depending on the audience or situation, it will be essential to be more direct and to-the-point.
Receiving: I types need messages that help them get organized or have explicit instructions or answers. Otherwise, they may lose attention and patience. They typically don't check their emails often and if you don't hear back from them right away, you might need to send them a reminder.
S Personality: People-Oriented & Passive
Sending: S personalities want their audience to feel good about their messages. Make it personal, ask questions, and use emoticons to display a positive tone. However, they are adept at changing messages to a more concise and direct format depending on the audience.
Receiving: S types will read through email messages in their entirety. The direct and abrupt seeming tone of messages from D styles bother them.
Sending: C personality types care about ensuring the complete accuracy and detail of their messages. They will re-read their emails to ensure accurate spelling, grammar, and other information while creating lengthy, thorough messages.
Receiving: C styles look for detailed and complete responses to their inquiries and to ensure accuracy, and will continue replying with lengthy messages, ideas or questions until this is reached. The long, detailed emails can be highly conflicting for D styles who prefer concise, bullet-point messages.
With the above information, anybody can learn how to communicate more effectively and efficiently via email, tailoring your approach and responses to the various personality types of colleagues or contacts.
If your entire office utilizes the DISC personality test, it will serve as an excellent team-building exercise. Each individual will gain new knowledge about themselves and those they interact with regularly. Everyone can benefit from the improvements in communication by the DISC profile.