Whether you are considering a career change or exploring the possibility of turning your consulting energies into coaching dollars, we prepared these "must-know" facts* about business and executive coaching. At PeopleKeys, we work with coaches and behavioral consultants on a daily basis and have multiple examples of successfully established practices and innovative approaches.
A straightforward way to start developing multiple streams of income through the application of certification in DISC behavioral analysis is further discussed in the PeopleKeys' Business Partner Training Program. Gain the insight you need to begin capitalizing on your knowledge and experience by reviewing these facts:
It is estimated that there are presently approximately 53,300 professional coach practitioners worldwide.


Western Europe accounts for the largest share (35%), followed closely by North America, with an estimated 33% share.


Over 40% of Fortune 500 companies use business or executive coaching services.


Almost 1 in 5 coach practitioners (19%) are within the 50-54 age range. A little more than half of coaches are between 45 and 59 years of age.


67% of coaches are females.


The ratio between female and male clients is approximately the same.


The female share of coach practitioners is highest in North America and lower in emerging markets.


The average annual income of a coach in the US is $60,000.


Coaches are independent business owners and set their own rates. These rates vary widely, ranging from $25 per hour to $300+ per hour.


Almost all coach practitioners (99%) have coach-specific training, with a large majority (89%) receiving training that was accredited or approved by a professional coaching organization.


Individuals or organizations using coaching services expect their coaches to be certified or credentialed.


Coaches use a variety of behavioral DISC-based tools to increase their effectiveness and unlock the potential of their clients. 32% of coaching practitioners are certified in behavioral analysis, which gives them additional advantage and skill sets.


Most coaches do more than just "coach." Coaches making six figures offer many products and services in addition to one-on-one coaching.


Usually, 98.5% of coaching clients report they are satisfied with their investment in a coach.


Coaching is not the same as consulting or counseling. Coaching is about creating an environment for success and better potential.


Coaching can produce a 529% return on investment and significant subtle benefits to the business.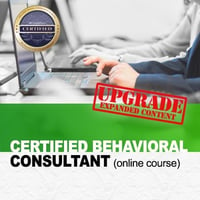 Adding a Certification in Behavioral Analysis to your coaching credentials will show you have an in-depth understanding of people nature and personality. PeopleKeys has been studying human behavior, with experience in business consulting for over 35 years. In-depth DISC proficiency training helps you gain a deep appreciation for DISC theory and applications. If you are already a Certified Behavioral Consultant, take the next step with the PeopleKeys Business Partner Training Program.
---
*Data based on ICF 2016 Global Coaching Study, Glassdoor and PeopleKeys® internal survey figures.