Did you know that leadership is a skill that can be developed? History gives us examples of many prominent leaders, who not only came from different backgrounds but also had different personality traits. However, all of them were united by one commonality: they made a difference in the world by leading and inspiring others. You can discover what it will take for you to improve your internal leader and strengths by utilizing the power of DISC and revealing your personality style and leadership approach in the Leadership Report by PeopleKeys. Before you jump in though, learn about 5 leaders who changed the world:
1. Nelson Mandela, Reformer DISC Style
Nelson Mandela was a noted human rights activist who led South Africa's fight against segregation and apartheid. Over the course of his life, Mandela received more than 250 honors, including the Nobel Peace Prize in 1993. Mandela died at the age of 95 on Dec. 5, 2013. His Personality Style was Reformer (IDS) and as leaders, Reformers desire to remain active and involved constantly in building relationships and being at the forefront of new projects. Reformers are passionate, expressive and responsive people who love to communicate their thoughts and opinions to others who are truly concerned.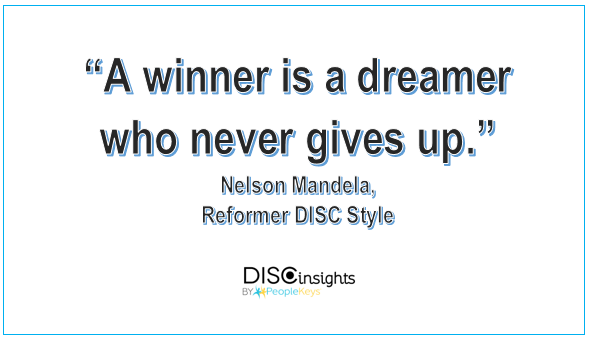 2. Mahatma Gandi, Attainer DISC Style
Mohandas Karamchand Gandhi led the fight for Indian nationalism in the 1920s. "Mahatma," which translates to "venerable" in Sanskrit, was an honorific first bestowed on him in 1914 in South Africa, and is now widely used. His approach of nonviolent protest inspired similar movements in support of rights and freedoms around the globe. His Personality Style was Attainer (DS). Attainers are practical people who evaluate themselves and others by results. Under pressure for these results, they may be direct and have a "no-nonsense" approach. They like to finish what they start and do it thoroughly.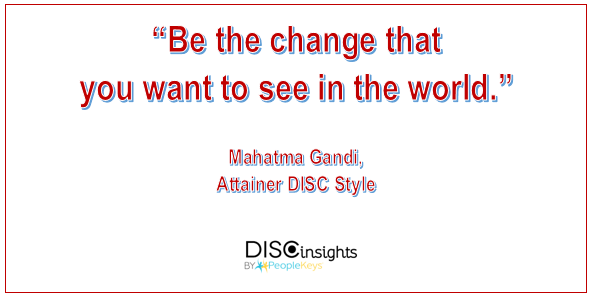 3. Martin Luther King Jr., Chancellor DISC Style
Martin Luther King, Jr. was an American activist and humanitarian who became the leader of the African-American Civil Rights Movement. Similar to Mahatma Gandhi, King became known for advancing civil rights through nonviolent civil disobedience. In 1964, King received the Nobel Peace Prize. He was also awarded the Presidential Medal of Freedom and the Congressional Gold Medal posthumously. His Personality Style was Chancellor (DIC). Chancellors are extremely efficient and action oriented. They tend to like a faster pace with more action and less talk.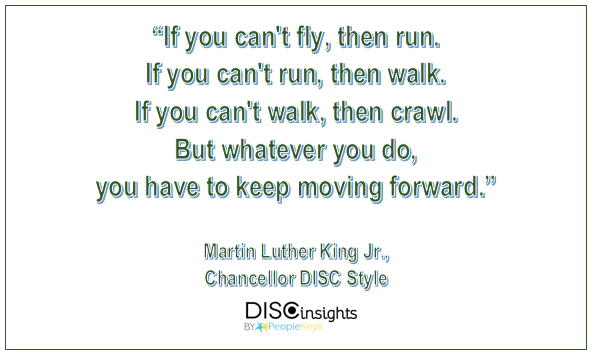 4. Mother Teresa, Peacemaker DISC Style
Mother Teresa was an Albanian-born Roman Catholic nun. In 1950, she founded the Missionaries of Charity in Calcutta, India, a religious congregation that is currently active in more than 130 countries. She was awarded the Nobel Peace Prize in 1979. She died on Sept. 5, 1997 at the age of 87. In 2003, she was beatified (made a saint) by Pope John Paul II, and was given the title Blessed Teresa of Calcutta. Her Leadership Style was Peacemaker (SC). Peacemakers place a high importance on accuracy and precision and desire to have quality be their hallmark. Peacemakers have no problem making a decision, but prefer to have exact facts and figures initially.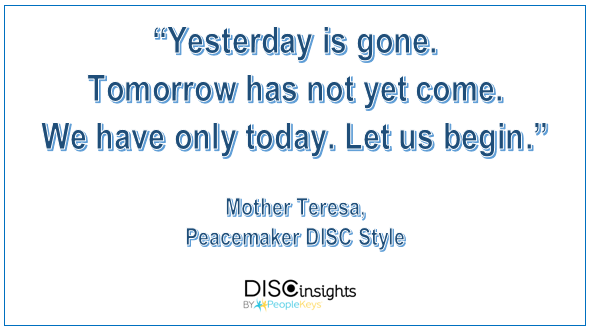 5. Stephen Hawking, Assessor DISC Style
As an author, Stephen Hawking was best known for his best seller "A Brief History of Time," but he is an English theoretical physicist, cosmologist, author, and Director of Research at the Centre for Theoretical Cosmology within the University of Cambridge. His books helped to make science accessible to everyone. His Personality Style was Assessor (CI). Since Assessors are equally driven by social relationships and completing tasks thoroughly, they constantly evaluate which takes precedence so they can allocate their time accordingly. They can be counted on to do a good job and pay attention to detail, while being aware of the needs of the people around them.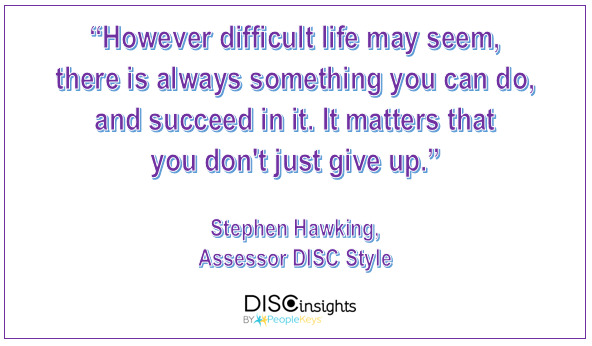 PeopleKeys Leadership Report provides you with the information you need to maximize your leadership potential and discover the best way to communicate and motivate those around you.