Get the most by reading between the lines with the 4-Dimensional Personality System
If you had the option of either seeing a one-dimensional or a four-dimensional view of a product you were about to purchase online, which one would you choose? Personally, I'd want as much information as possible to base my decision on before I surrendered my credit card digits. I guess that's fitting for my high-C personality style, but I suspect, you too would take the extra info, especially if it didn't require extra research on your part to get it. In the world of talent management, PeopleKeys 4D assessment tool is not only a multi-dimensional view of behavior, but it's also a highly versatile tool for many business applications.
For those using Behavioral Analysis in your people decisions, you may already know the DISC to be a powerful tool, giving you information to base decisions. It's been utilized to inform for on-boarding, succession planning, and everything in between. Yet, DISC alone is only a fractional view of behavior. DISC identifies our observable behaviors with great accuracy and simplicity, but there are other behavioral dimensions lying under the surface that are equally crucial to recognize. Tools identifying ways of thinking (TEAMS), personal motivators (Values), and life passions (BAI) can refine your decisions with incredible granularity.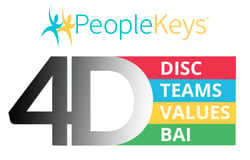 When decisions are critical or costly, you may discover DISC alone is not enough. You need a complete, 4-Dimensional view to maximize your insight, increase your success, and reduce your risks.
PeopleKeys has not only studied human behavior for over 35 years in all manner of occupations and environments, but has applied behavioral insights in practical ways to help leaders, managers, coaches, consultants, and educators make informed decisions when time and money are on the line.
PeopleKeys 4D: A Multi-Dimensional & Highly Versatile Tool
To illustrate how multi-dimensional and adaptable the 4D tool really is, let's look at how leaders can use the same 4D graph below to base their decisions in two different scenarios - Hiring and Career Counseling.
1) Hiring (customer service role)
In this example, a hiring manager is using the 4D to hire Ben, a candidate for the customer service representative position. The most important graph dimensions are circled. Green circles identify the dimensions needed for the customer service role. Red circles represent areas that are slightly under the ideal.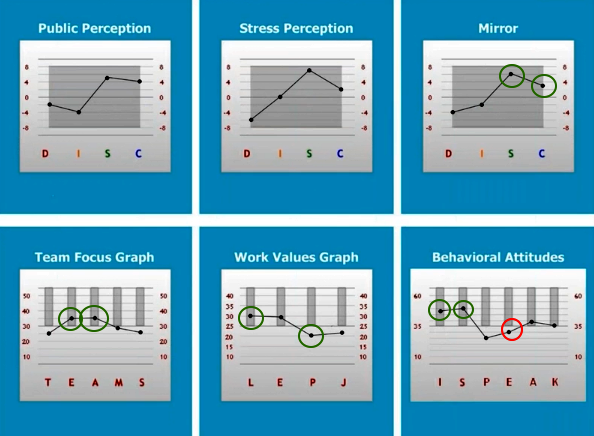 How to interpret this?
DISC "Mirror" graph

: It shows that Ben devotes high energy to steadiness (S) and conscientiousness (C). Since these are the highest in Ben's true self "mirror" graph, the hiring manager can be sure Ben will be friendly (S), a team player (S) and will follow directions accurately (C).
TEAM Focus graph: Show that Ben's thinking focuses mostly on analysis (A) and execution (E). This is great because of all the focus areas on a team, for customer service, Ben needs to be focused on problem solving (A) and executing solutions (E), processes (E), and tasks (E) for customers.
Work Values graph: Ben devotes the right amount of energy towards loyalty (L), while personal freedom (P) is not a high priority, and that too is good in this role. The hiring manager is most concerned with Ben being dedicated and dependable (L). If personal freedom were a focus here, Ben may become bored or have trouble with timeframes or constraints, so a high personal freedom (P) can be a red flag in customer service.
Behavioral Attitudes graph: Ben is mostly motivated by inner awareness (I) and social humanitarianism (S). Of all the behavioral attitudes, these are most important to customer service because a representative's inner awareness will ensure they are empathetic (I) and show emotional intelligence (I) in dealing diplomatically with customer issues. Being good-natured, compassionate, and kind are all necessary. The only red circle is on the economic (E) dimension because customer service reps often suggest and up-sell products. But, it's not a deal breaker in customer service like it would be if it were a sales role.
Conclusion: Ben is matched well with this Customer Service role behaviorally. Now the hiring manager can concentrate on other hiring criteria such as skills, experience, references, and salary requirements.
2) Career Counseling
In this example, a career coach uses the 4D to help Chloe, a student, find a career direction. Important dimensions are circled. The circles identify dimensions Chloe devotes the most energy towards. Chloe should also note dimensions that are low, as roles requiring those dimensions may strain her or may not be fulfilling.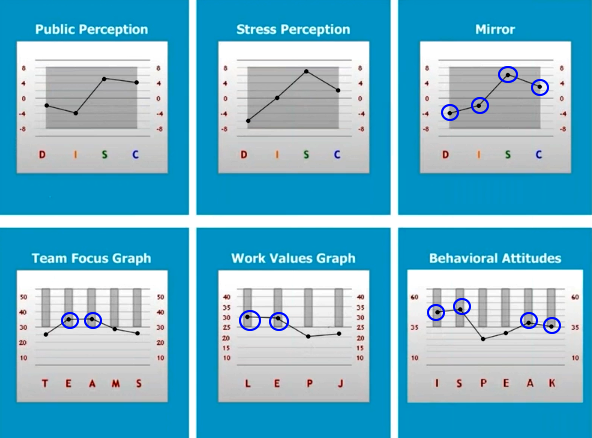 How to interpret this?
DISC "Mirror" graph: Chloe devotes high energy to steadiness (S) and conscientiousness (C). Because Chloe's behavior is both highly people and task-oriented, she has a wide range of occupations from which to choose. (PeopleKeys has suggested occupations for each style). Because her dominant tendencies excel in more passive environments, she needs to be in a friendly environment where she can work with people and processes. She's happiest executing tasks with creativity and quality, and honing her expertise and relationships. Chloe doesn't put much energy towards dominance (D) or influence (I). Typically, people with this style enjoy supportive roles. Generally, they aren't as satisfied in high pressure, high-risk, extroverted, or fast-paced environments.
TEAM Focus graph: Chloe's thinking focus is mostly on analysis (A) and execution (E). Once Chloe can visualize her team thinking style, she's more prepared for roles that will use her thinking abilities and natural preferences. Chloe is most comfortable on teams where she can move projects forward, executing tasks and processes, while analyzing and solving problems as she thinks well on her feet.
Work Values graph: Chloe devotes the right amount of energy towards loyalty (L) and Equality (E). In the workplace, Chloe will value equality (E), so she may want to find an environment that has transparent anti-discrimination policies, and one which is well-reviewed by past employees. If Chloe's corporate culture is stable and harmonious, she will be loyal (L) and committed.
Behavioral Attitudes graph: The BAI is a wonderful tool for career direction. The BAI speaks to life values and motivations. Chloe is mostly motivated by inner awareness (I) and social humanitarianism (S). This is no surprise because she's a high S-C DISC style, which tends to be more passive and self-reflective. Chloe will want to make sure her life values align with her career objectives, corporate mission, and corporate culture. Therefore, Chloe will want to work in an area that nurtures and leverages her empathy and emotional intelligence. The fact that Chloe is driven mostly by social and humanitarian causes reveals that she is most happy when she feels she's "giving back," as this fulfills and satisfies her at her core. So regardless of her salary or title, she's really most energized by mission-based occupations or companies.
Conclusion: Chloe will be much better prepared for career planning and research after exploring her 4D with her coach. Planning her training and job search around her natural behavioral preferences will put her in an environment that energizes her rather than drains her energy.
As you can see, hiring and career direction are two areas you'll want to dial up the granularity of information. The wrong decision can have devastating consequences. DISC alone recognizes 41 behavioral style blends, while the 4D provides 1440 combinations, pulling in thinking styles, values and passions that lie beneath and shape observable behavior. The depth and breadth of this tool is massive. So, if you want to become a pro at graph reading and interpreting the 4D instrument for different applications, become a PeopleKeys Certified Behavioral Consultant.