Hiring has always been one of the biggest challenges for any business. Every business owner and HR professional know how lengthy and tedious the process can be – from job posting, collecting applicants' resumes, screening, reading, interviewing first time, second time and so on. Employees are often hired for their resume skill sets and interview presentation ability, and then fired due to poor performance or because they were a poor behavioral fit for either the job role or the company culture. This makes the hiring process endless, hard, and tiresome!
Hire Smart Not Hard
By now, human resource and hiring professionals should understand that behavior matters in hiring. Assessing candidate behavior has been proven to be a major predictor of employee success, so with such significance, why leave behavioral fit to chance or wait for the interview to gain insight?
Assessing behavior prior to hiring helps alleviate this retention headache. Both behavior and performance matter for retention, and leading companies, such as Google, are taking steps to hire smarter behaviorally.
What is Predictive Hiring?
Predictive hiring consists of:
Studying behaviors of successful managers to determine which behaviors are needed for managers to thrive on-the-job and within the company culture.
Going beyond the standard interview, adopting structured Behavioral Interviewing Techniques to evaluate a candidate's future performance.
Prioritizing performance-based hiring over traditional hiring because at the end of the day, performance is what really pushes a company forward faster.
Certainly, behavioral interviewing is necessary to strategically get to the heart of on-the-job behaviors, motivations, and critical thinking in the candidates' own words, but how much time would hiring managers save if behavioral insights were available in tandem with the candidate's resume, even before the interview? How would that change the interview short-list and further refine behavioral interview questions?
Predictive hiring + traditional ATS
These questions have been asked by recruiters, hiring managers, and corporate stakeholders who know the importance of making smarter, behaviorally-based hiring decisions. They recognize the benefits of using tools, such as PeopleKeys' Repcruit ATS, which is integrated with DISC insights, occupational benchmarking and the ability to integrate job and other skill assessments all prior to the interview; providing hiring managers an efficient and cost-effective way to hire superstar employees, improve retention rates and keep hiring data all in one location.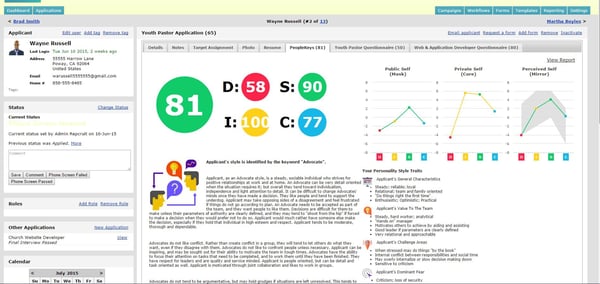 Figure 1: Candidate predictive scoring and DISC graph with occupational benchmark for a role fit
Using an ATS, such as Repcruit, that integrates assessment of hard and soft-skill capabilities, hiring managers can view one predictive "score" (see Figure 1) to quickly determine the top-fitting candidates without having to shuffle through a pile of resumes and applications. For those hiring managers not using an ATS at all, or those using an ATS and a separate platform for behavioral assessments and other testing, by combining resources into one system will not only save precious time and money, but a company's existing employees' hard and soft skills assessments can also be integrated into the same platform. Job posting, behavioral and job skills testing, interview questions and hiring workflows all in one system is a real game-changer for the hiring manager.
If you currently use DISC to understand behavior for managing, coaching and team building, let DISC provide insight to find the best mix of behaviors for your next hire. If you are a hiring manager not yet using an ATS, consider Repcruit, powered by PeopleKeys.
PeopleKeys is excited to offer their clients the Repcruit ATS at no extra charge. That's not a typo!
With each Repcruit package of assessments, you get the applicant tracking system complimentary. For more information about Repcruit, or to understand the comprehensive and quick results you can get by using Repcruit for behavioral hiring and interviewing, please download Recruit's FAQ's or get in touch with a Peoplekeys' behavioral specialist.